COVID-19 and Boys and Men of Color: A Spotlight on Health Disparities
By Sergio Cuellar
More than 120 funders and organizers from across the country attended our latest webinar focused on COVID-19 and health disparities. Advocates shared how they are working to mitigate those disparities, addressing the systemic racism that has led to the harrowing inequities our communities are experiencing.
This call was part of a series of webinars that offer an important opportunity to deepen our understanding of the current conditions facing boys and men of color and their families, and how leaders across the state are responding. Speakers called for data transparency to track the disparate impact of COVID-19, addressed the trauma that this pandemic is bringing up for communities of color, discussed the implications for youth and their future and outlined policy demands to ensure that policymakers and systems are being held accountable well after this pandemic has passed.
Hosted in partnership with the Alliance for Boys and Men of Color and the national Executive's Alliance for Boys and Men of Color, the webinars shine a light on the many structural issues facing communities of color that have been exacerbated by the global pandemic, from partner and intimate violence, racism, the lack of mental health services, and the injustice of criminal, juvenile and immigration detention systems. Funders also heard about the immediate and long-term opportunities to take action.
DeAngelo Mack, director of State Policy at Public Health Advocates, spoke about the need for trauma-informed care that is specific and is guided by the communities that are being served: "Currently, those doing violence intervention are not seen as essential workers, but what we're seeing is that they're serving those roles in that capacity,", said DeAngelo. "We also need to get our doctors to understand the communities they serve as, only then, will we be able to get the resources that these communities actually need."
April McGill, Director of Community Partnerships and Projects for the California Consortium for Urban Indian Health / Red Woman Rising passionately spoke about the work the organization is doing to serve American Indian and Native people in the region, calling out that "the loss of even one elder is particularly devastating in those communities since, with them, passes the history, culture and traditional practices". She further pointed out how this pandemic is devastating to these communities. "This disease has been very scary because we are seeing it increase child abuse, domestic violence, and high amount of depression and anxiety amongst our men, who are supposed to be our warriors."
Kanwarpal Dhaliwal, associate director of the RYSE Center, highlighted the programs that the Center provides, including health, community organizing, education and justice, and media arts and culture for youth, with programs built to "ensure that young people feel love and that systems love young people". "Over the last few weeks, we are getting calls from members and their families, not just on a state level but across the country," noted Kanwarpal. "We are seeing what we predicted, and know that it will continue in the coming months and into the year, so have launched the West Contra Costa (WCC) COVID Community Care Coalition to ensure an equitable recovery for systems transformation – that as we are responding to the immediate needs, we have to name and address the structural issues that brought us here."
We also heard from Cecilia Castro, education policy director from the Dolores Huerta Foundation on how, only now, farmworkers in the Central Valley are being considered "essential" but still lack basic protections and resources. "There are a lot of food banks popping up, but a lot of them are not accessible to farmworkers, and there was no sense of urgency to make them accessible", Cecilia pointed out. She also emphasized that with more kids staying home and the announced budget cuts to education, "we must ensure that our youth are engaged, active and are given the opportunity to have other ways of learning."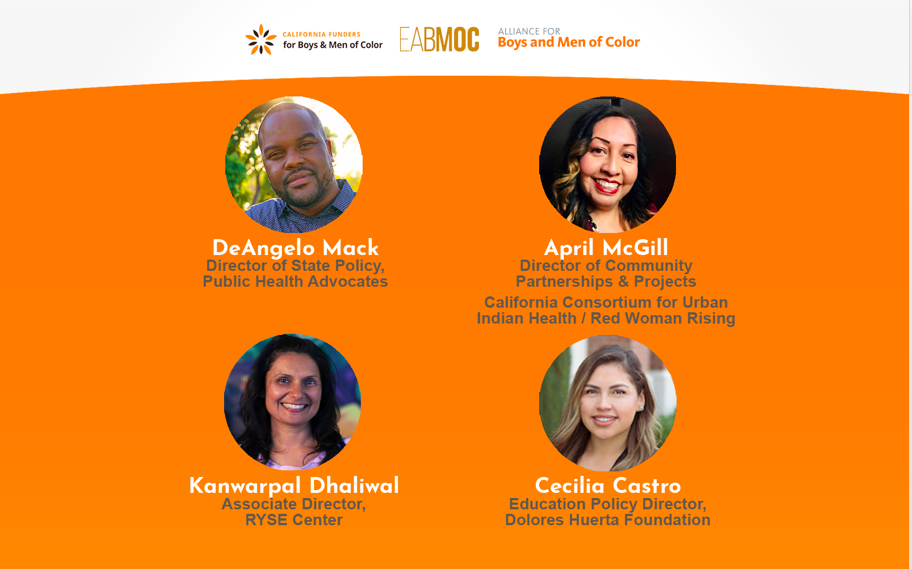 In response to COVID-19, in addition to hosting these learning and action opportunities, California Funders for Boys and Men of Color has created a resources page, tracking rapid response funds from our network, advocacy efforts to protect those most vulnerable at this time, and news coverage. As part of this series in partnership with the Alliance for Boys and Men of Color, we will be conducting our next call on June 5. To get updates from our network and to receive an invite for our next call, sign up for our newsletter, or follow us on Twitter and Instagram.
Please see here for resources from the video call: