COVID-19 and Boys and Men of Color, Their Families and Communities – A Spotlight on Youth Justice
By Sergio Cuellar
Last week, we held our second call as part of the COVID-19 webinar series for funders and organizers, discussing the urgent needs of communities impacted by the pandemic. With more than 80 youth justice advocates and funders from around the U.S. joining this conversation, the call was centered on how organizers are responding during the COVID-19 pandemic to protect young people, build power and transform California's youth justice system.
CFBMOC hosted the call in partnership with the Alliance for Boys and Men of Color and Positive Youth Justice Initiative, managed by the Center at Sierra Health Foundation. The conversation focused on how grassroots efforts and community based organizations are putting pressure on systems leaders to divert resources in order to protect communities, the added risk and danger that incarceration creates during a pandemic and how communities are finding innovative ways to feel work together and advocate for their freedom.
"How we are able to connect during the age of this pandemic is equally as important as those policy victories," said George Galvis, executive director of CURYJ. "That sense of connection and interdependence when folks are already feeling so isolated and detached is part of the battle."
The webinar also featured Kim McGill, an organizer for the Youth Justice Coalition, who stressed the urgency of getting young people released to ensure their safety and wellbeing. She also spoke about how advocacy can remain safe and effective even as shelter-in-place orders continue: "For our car rally [earlier this month], over 130 cars and hundreds of people joined us at the downtown county courts," said Kate. "We blocked off the area to get attention to our demands for justice."
Rose Cahn, senior staff attorney from the Immigrant Legal Resource Center, highlighted the additional level of vigilance that is needed for immigrant youth. "We are demanding and ensuring when we do get releases, they are responsible releases," said Rose. "[We insist] That people are not being released directly into the hands of ICE."
Finally, Frankie Guzman, director of California Youth Justice Initiative and attorney for the National Center for Youth Law, reminded us that "community investments today are more important than ever in light of the COVID-19 pandemic" and that "our communities continue to come together to protect our wins and continue pushing forward for community health and investments."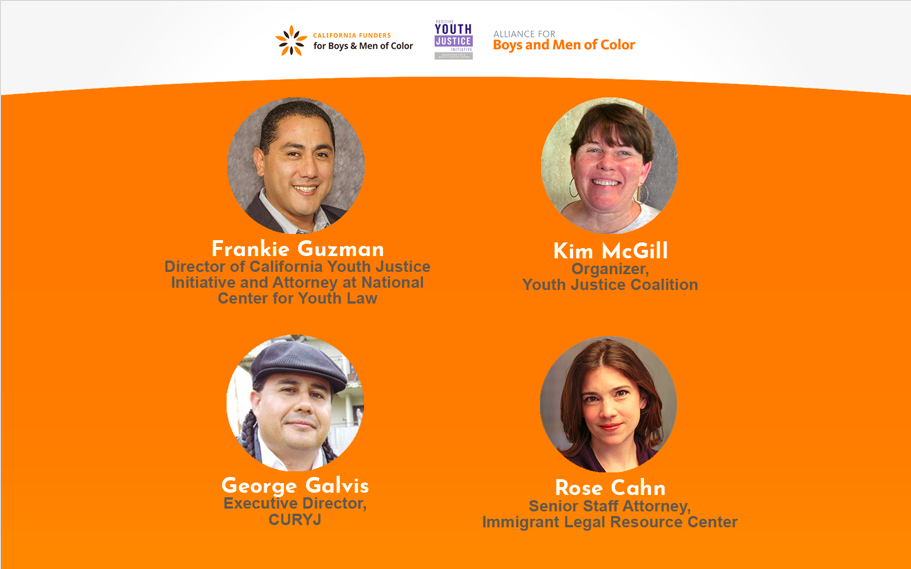 In its response to the continued impact of COVID-19, California Funders for Boys and Men of Color has continued to update its resources page, tracking rapid response funds from our network, advocacy efforts to protect those most vulnerable at this time, and news coverage. We will be conducting additional calls as part of this series in partnership with Alliance for Boys and Men of Color. To get updates from our network and learn about the next call, sign up for our newsletter, or follow us on Twitter and Instagram.
Please see here for resources from the video call: