COVID-19 and Communities of Color – A Video Call for Funders and Organizers
By Sergio Cuellar
Last week, more than 60 funders and organizers from around the U.S. joined us for a video call on the impact of the COVID-10 pandemic on communities of color, and boys and men of color in particular.
Hosted in partnership with the Alliance for Boys and Men of Color, the conversation shone a light on the many issues facing communities of color that have been exacerbated by the global pandemic, from partner and intimate violence, racism, homelessness and lack of a safety net, and the injustice of criminal, juvenile and immigration detention systems.
As Pete White from Los Angeles Community Action Network (LA CAN), an organization that serves low-income and homeless people, said, "COVID-19 didn't produce new issues. This pandemic brought up issues we have been fighting for years, for decades."
The call also featured Cynthia Choi of San Francisco-based Chinese for Affirmative Action, who pointed to an escalation of coronavirus-related bullying, harassment, and other racist acts against Asian Americans; Silky Shah of Detention Watch Network, who highlighted the impact of the crisis on immigrant detainees as ICE ignores the issue and steps up enforcement; and Abraham Medina of California Alliance for Youth and Community Justice, who spoke about the importance of supporting digital connectivity for people lacking access.
"It's going to take a herculean effort of people – like the people on this call – to take care of our people," said Norris Henderson, founder of Voice of the Experienced.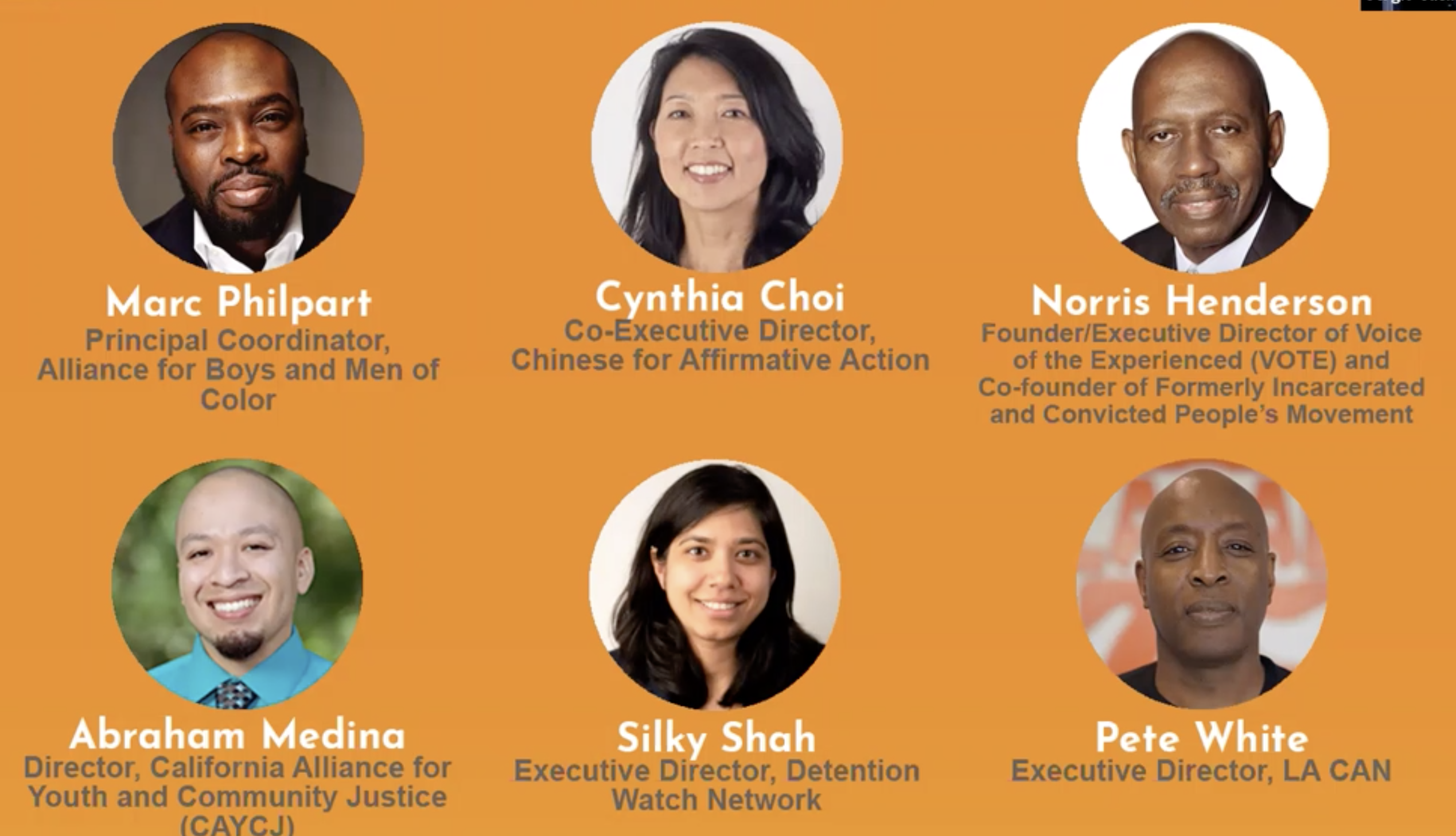 In response to COVID-19, California Funders for Boys and Men of Color has created a resources page, tracking rapid response funds from our network, advocacy efforts to protect those most vulnerable at this time, and news coverage. In addition, we are exploring additional learning and action opportunities for funders focused on the pandemic and related issues facing boys and men of color, their families and communities.
Please see here for resources from the video call: