Introducing Chris Cooper – Member Spotlight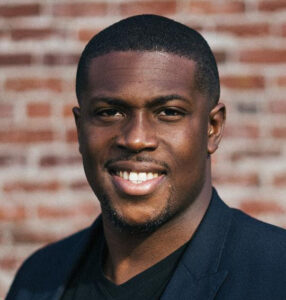 Chris Cooper has joined Sierra Health Foundation and The Center as the Program Officer responsible for our collective investments in the power of young men of color in California. Chris is a dynamic and passionate leader who is committed to building upon existing work, while ensuring the California Funders for Boys and Men of Color network is positioned for its next phase of impact.
Chris will continue the network's policy efforts in concert with our advocate partners, advance the Here to Lead storytelling initiative and expand the place strategy into new regions across the state with an emphasis on racial justice and economic inclusion. He comes to Sierra Health Foundation and The Center with a deep background in violence prevention and intervention. Learn more about Chris below.
Questions and Answers with Chris
What's your favorite place to travel in California? Monterey
What's your dream travel destination? Jade Mountain, St. Lucia
What are you reading right now? "Why Are All the Black Kids Sitting Together in the Cafeteria?" by Beverly Daniel Tatum
Do you have a favorite quote? "I'm not persuaded that the opposite of poverty is wealth — I've come to believe … that the opposite of poverty is justice." – Bryan Stevenson
What are you most excited about achieving with the California Funders for Boys and Men of Color? CFBMoC reminds me of the Avengers. There will be complex challenges, but united there can be some extraordinary and heroic outcomes for boys and men of color in California. As a start, I'll aim to get to know more about the folks dedicated to this network.
Chris Cooper's Biography
Chris Cooper is a Program Officer at Sierra Health Foundation and The Center, where he directs the California Funders for Men and Boys of Color. Formerly the director of Neighborhood Safety and Youth Engagement for the Health Education Council, Chris has long advocated for evidence-based solutions to preventing and addressing community violence.
Chris has led violence interruption programming and training for the Oakland-based nonprofit Youth ALIVE!, the Mack Road Foundation and WellSpace Health. Prior to these positions, he spent several years as an educator. He set upon this path after his football teammate was fatally shot in their junior year of high school. In response to this tragedy, Chris committed himself to developing opportunities for youth, related policies and programs centered on healing.
Chris received a Bachelor of Fine Arts degree from an institution of higher education and a Master of Public Administration in Government and Policy from Grand Canyon University. He is a graduate of the City of Sacramento Management Academy and the FBI Citizens Academy, and is the recipient of Center for Fathers and Family Sacramento's 2017 Distinguished Gentleman of the Year Award.
A South Sacramento native, Chris enjoys watching the 49ers win, traveling abroad and supporting people who are often overlooked and underrepresented.