CFBMoC Member Spotlight – Sophie Fanelli, President, Stuart Foundation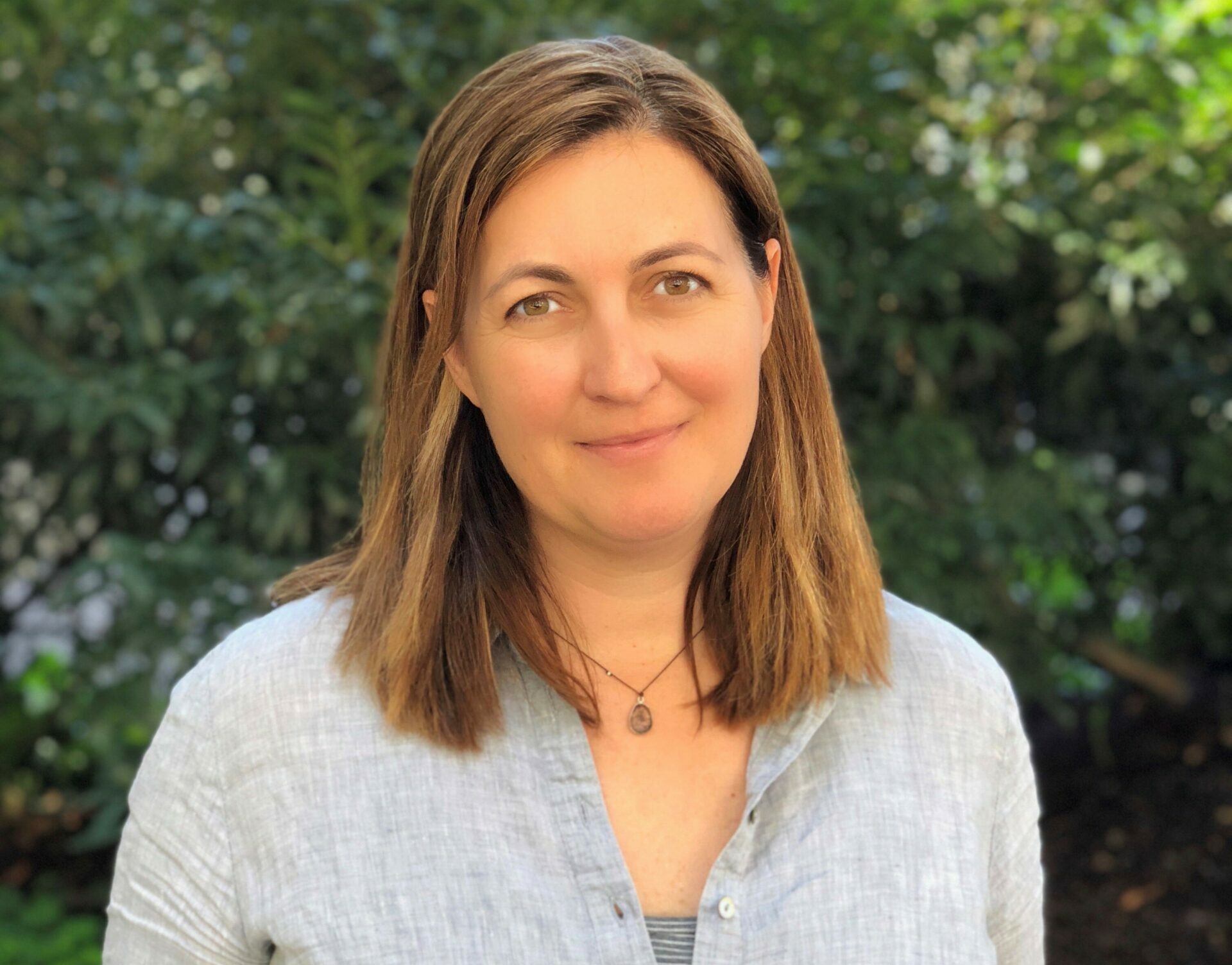 Tell us about the Foundation's vision and goals?
For over three decades, the Stuart Foundation has worked to improve life outcomes for young people through education. This work has always felt urgent, but even more so now when the pandemic has impacted students' communities and lives – particularly low-income youth of color. We are doubling down on our commitment by focusing on equity in complex systems like school districts and supporting the conditions needed to transform schools and other systems for adolescents. We want young people to thrive because of California's public education system, not in spite of it.
My partner, who is a high school teacher, and I are the parents of a teenager, and we know full well how exhilarating and frustrating the adolescent years can be for all involved!  Yet anyone who has been an adolescent or raised one knows it's also a time of remarkable growth and opportunity. It's a time of rapid learning and brain development and when young people begin to understand the world around them and their places in it. Unfortunately, it's also a period of vulnerability: too often, adolescents – who in California are majority low-income BIPOC youth – encounter schools that aren't safe havens. Yet we know that schools – and the systems in which they operate – can be transformative for young people. We know of schools that are designed with the student in mind, with meaningful learning experiences at the center, and caring adults in relationship with the students to support their creativity, agency and belonging. Schools that celebrate our diverse and multilingual students and prioritize culturally affirming curricula. Our vision is for all of California's adolescents to have these vibrant, equitable, inclusive schools where race, class, gender, culture, or any other social factor no longer predicts success.
How does the Foundation approach its equity work?
As champions for education equity, we approach this work with a learning mindset that recognizes and embraces the complexities of our educational system and prioritizes building relationships with trust.
We are in a moment of tremendous peril and opportunity. Peril because young people have been harmed by relentless traumas: the global pandemic, economic inequality, and racial injustice. Opportunity because there is an influx of new resources into the system and, perhaps, greater recognition of how deeply unequal opportunity is in our society, and the consequences of those inequities. The Foundation has a long history in child welfare grantmaking which resulted in significant policy and practice reforms and improved outcomes for youth in foster care. Many of these reforms came from targeted universalism: schools began to provide stable, nurturing, and personalized school environments in addition to academic supports and interventions. And the non-academic supports that helped serve these youth were of benefit to all marginalized students, and frankly to the school community as a whole.
As we focus on the two parts of our strategy – Thriving Adolescents and Improving Systems for Equity – we are partnering with leaders and community stakeholders across the state to ensure that young people who have experienced marginalization are helping to co-create a system of school that fosters belonging and success for them and their peers.  As Angela Glover Blackwell writes in her article, "The Curb-Cut Effect," "There's an ingrained societal suspicion that intentionally supporting one group hurts another. That equity is a zero-sum game. In fact, when the nation targets support where it is needed most—when we create the circumstances that allow those who have been left behind to participate and contribute fully—everyone wins. The corollary is also true: When we ignore the challenges faced by the most vulnerable among us, those challenges, magnified many times over, become a drag on economic growth, prosperity, and national well-being." We are lucky to do our work in California, where incredible leaders have paved the way for equity; our job is to listen, learn, and get better. We are on this journey at the Stuart Foundation and know we have a lot to learn and do.Joining CFBMoC has given us incredible opportunities for growth and transformation.
What are the most pressing issues facing boys and men of color in California today?
Frankly, these issues are what they have been for far too long, only more so now.  We listen and learn from partners such as UCLA's Center for the Transformation of Schools which is laying groundwork for deeper understanding and action on structural inequities. In Beyond the Schoolhouse, they highlight compounding disadvantages that undermine students' academic, social and economic success, such as poverty and economic inequality, health and neighborhood conditions,  school climate and policing.
Black students, in particular, and boys of color, have been denied the opportunity to achieve their full potential and systemic racism holds them back. Boys of color in middle and high school have also seen their educational trajectories disproportionately slowed or interrupted completely by COVID.  And the population most likely to have stopped or dropped out of community college in California over the past two years is young Black men.
How is the Stuart Foundation addressing the barriers facing boys and men of color in the state?
We support culturally responsive organizations that are partnering with young people to co-design and create systemic change from the ground up, where they are able to build trusting relationships, have positive interactions and connections, make sense of the world they are living in, and shape their own role in leading change.
In addition to CFBMoC, we contribute to the California Black Freedom Fund, provide youth organizing resources to Californians for Justice, and offer support for InnerCity Struggle, Community for Just Schools Fund, and Community Coalition – all of which are using their power to change systems.  Others are using funds to incorporate Youth Participatory Action Research (YPAR) into their work, like UC Berkeley's Y-PLAN, which pairs high school students with civic leaders to tackle real-world problems in their communities.  So many of our grantee partners are engaged in models and research that show what needs to be done to support the education, health and wellbeing of Black and Latinx families, such as high-quality community schools. We are strong believers in the promise of community schools – a model on the verge of a $3 billion state investment – to deliver the kind of learner-centered, equity-driving education that more California young people should have access to. We will continue to ensure this investment realizes its potential for students furthest from opportunity.
Linked learning, project-based learning and career pathways are also other powerful approaches. For example, King Drew Magnet High School in South L.A. was recognized as one of four high schools in Los Angeles closing the opportunity gap for low-income Black students.  As a medicine and science school that serves low-income students of color, it provides opportunities for youth to go into health care careers and to enroll in four-year colleges at an impressive rate and has had a graduation rate of nearly 100% over the last four years. Schools like Drew shouldn't be the exception. Their holistic approach rooted in deep community partnerships, outstanding learning opportunities, and an inclusive culture should inform districts and schools across the state. In addition to supporting pathways, other Foundation grants, such as the Campaign for College Opportunity's recent research on the state of higher education for Black Californians, focus on healthy transitions to college, career and adulthood..  We've also supported research showing the promise of dual enrollment (when students take college courses for credit while still in high school) as an acceleration and engagement strategy. We're interested in how that opportunity can be made available to more young people of color. As Joel Vargas at Jobs for the Future points out, it's time to blur the boundaries between high school, college and work: "This 'blurring' of secondary and postsecondary education could point to a new way forward: a model that is neither high school nor community college but a combination of the two that saves students time and money, while offering them new kinds of guided support and preparation for careers." Additionally, our partners at John Burton Advocates for Youth and the National Center for Youth Law are working across sectors – education, housing, health care, economic security – to create the best systems for youth who have been in foster care or experienced homelessness.
What lessons can you share with funders about supporting racial equity and systems change work as it pertains to education?
This work is difficult and requires a long-term commitment, but it's also extraordinarily exciting to see the brilliance, creativity and determination of our state's  young people.. Frankly, the first lesson is simple: listen to our youth, their families, and their teachers; let go of assumptions about who is an expert and whose knowledge is valued. We have this remarkable opportunity to work with incredible partners and embrace the complexities together.  Going alone is not an option.
I feel fortunate to have had a career in social justice as an advocate, a coalition builder, and now in philanthropy.  I'm proud of key decisions we've made at the Foundation that reflect what we have learned from others, such as desiloing our work and pivoting to be responsive to urgent and emerging issues. Over the last few years, we've shifted a lot of our grants to general operating support and multi-year commitments so our grantees can make their own resource decisions.  And we intentionally collaborate with partners inside and outside of the system who are pushing for transformation and the promise of public education, who disrupt longstanding inequities, and who make schools places that build strong relationships between educators and students, foster intellectual curiosity and center human connection. This approach ensures that state and local policies are informed by the lived experiences of young people and their families, perspectives from on-the-ground practitioners, and from research and evidence.
Our approach to assessing and gauging our impact is more of a faithfulness to our vision and values.  A colleague recently shared this from Parker Palmer which  summarizes what we strive for at the Foundation and want for California's public schools: "If we are to stand and act with hope in the tragic gap and do it for the long haul, we cannot settle for mere 'effectiveness' as the ultimate measure of our failure or success….When measurable, short-term outcomes become the only or primary standard for assessing our efforts, the upshot is as pathetic as it is predictable: we take on smaller and smaller tasks—the only kind that yield instantly visible results—and abandon the large, impossible but vital jobs we are here to do. We must judge ourselves by a higher standard than effectiveness, the standard called faithfulness. Are we faithful to the community on which we depend, to doing what we can in response to its pressing needs?"
We have found that if we connect everyone's voices and perspectives back to policy –allies, implementation leaders, researchers, and education experts – we can make progress toward a collective future.  We take heart from victories such as the passage of the Local Control Funding Formula (LCFF), hallmark legislation which transformed our approach to school funding by directing spending based on the greatest needs and additional funding for low-income students, English learners and foster youth. The equity promise of LCFF is not yet fully realized, and we continue to support advocates and organizers who push for equitable funding policies at the state and district levels.  A more recent positive shift came from the state's university systems eliminating the use of standardized tests in admissions, a practice that was biased against low-income Black and Latinx students.  We also celebrate the many student, family and community-led movements in the Dignity in Schools Campaign that are working to dismantle the school to prison pipeline. And we join others in calling broad public attention to harsh discipline practices that disproportionately impact students of colors, as in the documentary, Pushout: The Criminalization of Black Girls in Schools.  We know that we won't move forward if we don't stand together.
How else is the Stuart Foundation responding to the threats facing public education in the current political and social landscape?
There is so much distracting and unproductive rhetoric about schools, which have become punching bags in the culture wars. We are listening deeply to the divisive commentaries, but our energies are only for our partners. We are faithful to those who are doing the hardest and most important work there is – teaching and supporting young people to succeed in school and life.
We are grateful for partners like Learn From History and Facing History and Ourselves that are supporting teachers to provide accurate history education and teaching students to reject racism. We need to continue to shine the light on research that shows the detrimental effects of racism on adolescent development and ensure that our schools don't perpetuate discrimination.  We believe all students – foster youth, students of color, LGBTQ+ youth, students from low-wealth backgrounds, students learning English – must be provided schools where they can be their full selves.
We are guided by the Foundation's history, values and belief that public schools underpin vibrant communities, inclusive economies and a functioning democracy. And that the adolescents at the center of our work are already the changemakers, leading the way on issues that matter to them.  We need our public systems to catch up to the vision young people have and find new ways for them to exert their voice and influence,  for they are the future of our democracy and civil society.  That's what drives us. Our work won't stop until all of California's adolescents have the opportunities and resources they deserve, now and in the future.